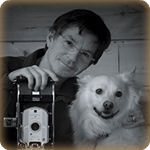 • Semi-retired grumpy squirrel who has made photographic images for over a quarter century. Loves dogs, Italian shoes, and Formula One. Despises NRA, NASCRAP, and political hypocrites (99% of them). Vermont Slave To The Land. Awarded still photographer, camera operator and DP. Dabbles in cartoons, painting, writing, producing, furniture building, and pest eradication. Makes firewood and moves snow religiously.
• Clients/history : Peter's commercial work spans 3 decades and includes work for the fashion, manufacturing, travel, retail, auto racing, music, film, and publication/advertising industries, as well as state governments. He also indulged an exploration of cinematography, becoming a respected director of photography winning awards for his work. List of clients available by request.
• Peter's fine art black and white work hangs in Galleries and private collections throughout North America, Canada, and Europe. He has had many solo exhibitions and won awards throughout the US. His work has been chosen for display at the International Environmental Film Festival, and The International Conference On Global Warning. His work is part of the permanent collections of both Fletcher Allen Hospital in Burlington, VT and St. Jude's Children's Hospital in Los Angeles.

WEB PUBLICATION
Peter's "escape from surgery recovery trip" last October is a featured story in April's FujiFilm "X magazine".
Follow this link and enjoy: http://en.fujifilmxmagazine.eu/4?page=5
You can scroll down or use the buttons within the article to view all the content.
Think before you steal: Copyright Info:
All photographs, text, graphics, and CD designs appearing on this Web site are protected under United States and international copyright laws. Copyright © 2014 and before by Peter Arthur Weyrauch and the respected clients.
This intellectual property may not be copied, copied to another computer, transmitted, published, reproduced, stored, manipulated, projected, or altered in any way, including without limitation any digitization or synthesizing of the images or any part of them, by any means whatsoever without the written permission of Peter Weyrauch and payment of a fee as determined by such use. No images are within the Public Domain. Use of any image as the basis for another photographic concept or illustration is a violation of copyright.
These images are not in the public domain. Digital watermarks and copyrights are imbedded. if/when an infringement is discovered, you will be notified and invoiced the industry-standard TRIPLE FEE for unauthorized usage and prosecuted for copyright infringement in U.S. Federal Court. Then you and your children will be ground up and eaten...
• "a master of black and white conversion and processing in the digital age...signature contrast and tone make for beautiful visuals and strong drama in the photographs..." -Jean Bardaji, Camtec/Leica Boutique
• "Peter's stark, sere images effortlessly take one on a journey through space and time. It's not just the subject matter that calls to mind Ansel Adams's work. It's the timeless, limitless clarity of the images themselves that create that sense of awe and humility." -Alexander L. Aldrich, Executive Director, Vermont Arts Council
all images/designs copyright 2014 Peter Arthur Weyrauch and respective clients